Back
Zeidler Farm Dominates Young Horse Series at Thunderbird
The second qualifying event in the western region of the 2011 Jump Canada Young Horse Series was held from May 25 to 29 at the Canadian Premier Tournament at Thunderbird Show Park in Langley, BC.

Georgann Gregory of Vancouver, BC, won the Seven and Eight-Year-Old Division aboard Phlush, owned by Jackie Magno. The pair had two clear rounds, stopping the clock in the jump-off at 36.66 seconds. Bred in Belgium, the eight-year-old selle francais mare is by Kannan out of a Vetiver de Gamet dam.

Finishing second was Gareth Graves and Conundrum, who had the first rail down in the opening round, as well as one time fault for exceeding the 78-second time allowed. Owned by Lisa Williams, the eight-year-old Dutch Warmblood gelding was bred in Argentina and is by Ensor Du Guy.

Horses owned by Zeidler Farm, located in DeWinton, AB, dominated the remainder of the Young Horse divisions. In the Six-Year-Old Division, United States Equestrian Team veteran Nicole Simpson rode Incognito to victory for Zeidler Farm, leaving all the rails in place and finishing the jump-off in a time of 43.19 seconds. The Oldenburg gelding by Continue was bred in Germany.

"We purchased Incognito from Markus Beerbaum," said Lori Green, Manager of Zeidler Farm for the past two years. "He said he had a lovely young horse that was well-bred, and that has certainly proven true. He is a really spectacular horse and has performed amazingly well for us."

Olympic Team Silver medalist Jill Henselwood of Oxford Mills, ON, also posted two clear rounds on Color Guard, a chestnut Hannoverian stallion owned by Katriina Ruotsalo of Northern Legacy Horse Farms in Whitefish, ON. Henselwood's time of 46.99 seconds in the jump-off wasn't fast enough to beat Simpson, but was good enough for second place. Henselwood and the stallion, which is a product of the RCMP breeding program, won the Six-Year-Old Division in the first event of the season, the Bow Valley Classic II held May 18-22 at Anderson Ranch in Calgary, AB.

It was a one-two finish for Zeidler Farm's homebred horses in the Five-Year-Old Division. Entering the ring first aboard India Blue ZF, followed by Lavender ZF, Simpson rode both horses to clear rounds to advance to the jump-off. First to go, Simpson and India Blue ZF stopped the jump-off clock in 46.04 seconds, but a rail down at the fifth fence on course left them with four faults. When Simpson returned riding Lavender ZF, she posted a clear round in a time of 46.636 seconds to take the win.

Owned and bred by Zeidler Farm, India Blue ZF and Lavender ZF are half-siblings on the dam side and represent the talented horses being produced by Zeidler Farm. Registered Canadian Sport Horse mares, both were bred using embryo transfers from Zeidler Farm's mare Illusion, who enjoyed great success in international grand prix competition under Tani Zeidler. India Blue ZF is by Mr. Blue while Lavender ZF is by Laurinn.

"Although they are both from the same mare, they are two totally different personalities," said Green. "Lavender is a Type A personality. She says 'I know what I'm doing,' so it's more about hanging on and going with her. India Blue is much more laid back. She's the one always asking 'Are you sure you want me to do that?' and would really rather go back to her stall and take a nap. It's fascinating to see how different they are, even though they're from the same mare."

Following the Thunderbird competition, both horses were heading home to DeWinton, AB, for a rest.

"As soon as we get home, we're pulling their shoes and throwing them out in a field for six weeks," explained Green. "They're still growing so much and we want them to have the time to do that. The plan is to bring them back to Thunderbird, and then hopefully on to Palgrave in Ontario for the Young Horse Series National Finals."

Zeidler Farm is home to one of Canada's premiere sport horse breeding programs. Its roster of mares is comprised of former grand prix competitors, bred to exceptional stallions. The resulting offspring are already making their mark in the show ring, as demonstrated by their outstanding success in the Jump Canada Young Horse Series.

"It all started with Illusion," said Green. "Once she was ready to retire, it became a question of what can we do with her. The geldings all get to retire to pasture, but mares can be bred, and that's what Tani decided to do. Now there are four mares, all former grand prix and international competitors, and we average four to six foals a year. People go to Europe and spend big bucks on youngsters, but I think we can produce horses that are just as nice right here in Canada. Our horses competing in the Young Horse Series are really lovely, and we have more just like them growing up at home."

The purpose of the Jump Canada Young Horse Series is to encourage the development of young show jumping talent and to give Canadian breeders additional incentives to breed superior show jumping prospects. Competing on a level playing field, the horses are divided according to age and jump at a level suited to their development. This careful development allows the horses to gain valuable experience and advance to the higher levels of show jumping competition with confidence. The Jump Canada Young Horse Series also gives prospective buyers for the hunter and jumper markets an opportunity to view a large group of prospects in a competition setting.

The 2011 Jump Canada Young Horse Series is truly national in scope with competitions being held from coast to coast. The National Young Horse Finals will take place at the Canadian Show Jumping Tournament held from September 21-25 in Palgrave, ON.

For more information on the Jump Canada Young Horse Series, please visit http://equinecanada.ca/jumpcanada/index.php?option=com_content&view=category&id=88&Itemid=3〈=en


Canadian Premier Tournament, Thunderbird Show Park – Langley, BC

Seven and Eight-Year-Old Division
Horse/Owner/Rider
1. Phlush Jackie Magno Georgann Gregory
2. Conundrum Lisa Williams Gareth Graves

Six-Year-Old Division
Horse/Owner/Rider
1. Incognito Zeidler Farm Nicole Simpson
2. Color Guard* Katriina Ruotsalo Jill Henselwood

Five-Year-Old Division
Horse/Owner/Rider
1. Lavender ZF* Zeidler Farm Nicole Simpson
2. India Blue ZF* Zeidler Farm Nicole Simpson

NOTE – The star * beside a horse's name denotes that it is Canadian-bred.
Incognito, ridden by Nicole Simpson for owner Zeidler Farm, won the Six-Year-Old Division of the Jump Canada Young Horse Series held May 25 to 29 at Thunderbird Show Park in Langley, BC. Photo Credit – Totem Photographics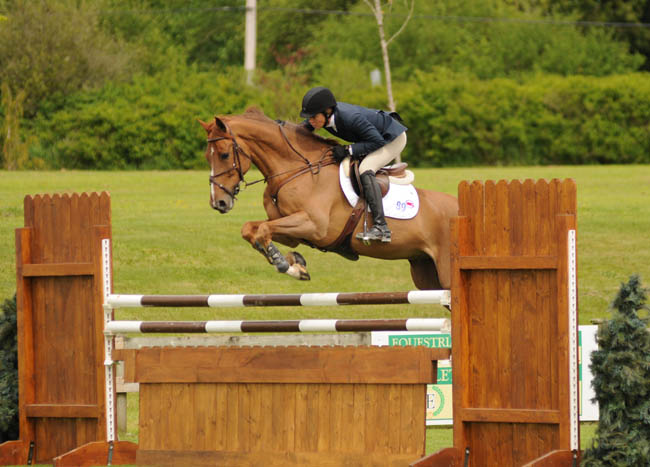 Lavender ZF, bred and owned by Zeidler Farm of DeWinton, AB, won the Five-Year-Old Division of the Jump Canada Young Horse Series at Thunderbird Show Park in Langley, BC. Photo Credit – Totem Photographics