Back
2019 Dressage Pan American Games Team Named for Canada
The Canadian Dressage Team will include a Pan Am return for Tina Irwin, 38, of Stouffville, ON, who already has a team silver medal from the 2011 edition in Guadalajara, MEX.
"I am very excited and honoured to be part of the Pan American dressage team with Laurencio," said Irwin, who has racked up an impressive resume with her mount Laurencio, even setting a world record for the highest small tour score in 2017. "I think we have a very strong team this year and I look forward to working with my teammates to bring home a medal."
Joining Irwin in Lima will be Jill Irving, 56, of Moncton, NB, who is coming off her debut at WEG 2018, as well as two talented rookies: Lindsay Kellock, 29, of Toronto, ON, and Naima Moreira Laliberté of Outremont, QC, who at 22 years of age is Canada's youngest equestrian athlete heading to Lima.
The 2019 Lima Pan American Games will prove especially meaningful for the Canadian Equestrian Team (CET) by providing the opportunity for Dressage to qualify for the Tokyo 2020 Olympic Games in Japan.
The equestrian competition will be held at the Club Hípico Militar La Molina. This equestrian venue is located on the eastern outskirts of Lima in a lush area with two golf clubs and polo grounds.

Lima 2019
https://www.lima2019.pe/en
July 26 - August 11, 2019
Dressage: July 28 - July 31

Full Canadian Dressage Team
Jill Irving & Degas 12 (Moncton, NB)
Tina Irwin & Laurencio (Stouffville, ON)
Lindsay Kellock & Floratina (Toronto, ON)
Naima Moreira Laliberte & Statesman (Outremont, QC)
Reserves
Megan Lane & Zodiac MW (Loretto, ON)
Belinda Trussell & Carlucci (Stouffville, ON)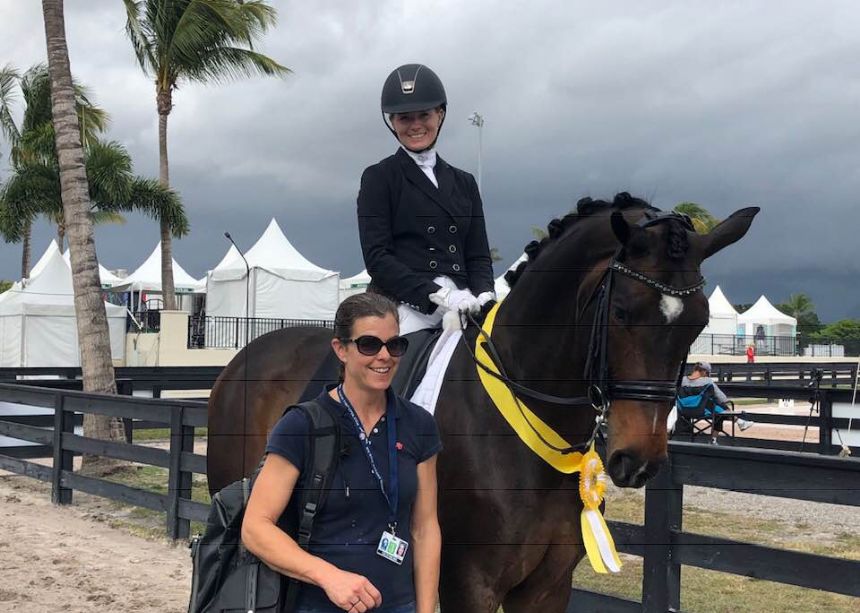 Lindsay Kellock & Florentina during the 2019 Florida winter season


Tina Irwin & Laurencio

Jill Irving & Degas 12 - CHIO Aachen (Germany)