Back
Brittany Fraser-Beaulieu Turns Focus to Family After a Successful Winter Season
Brittany Fraser-Beaulieu of Saint-Bruno, QC, closed the books on a short yet very sweet winter show season at the Adequan Global Dressage Festival (AGDF) in Wellington, FL.
With an impressive track record of multiple scores above 70% to start 2019, Fraser-Beaulieu and All In (Tango x Damiro), the 14-year-old Dutch Warmblood gelding she co-owns with her father, Craig Fraser and husband, Marc-Andre Beaulieu, show great promise for a record-breaking season.
However, their competition schedule has been put on pause, as Fraser-Beaulieu explained: "My husband and I are expecting our first child in June. My plan was to compete in the CDI 5* in February and then take a break from the competition ring. I could not have asked for a better way to end the Florida season."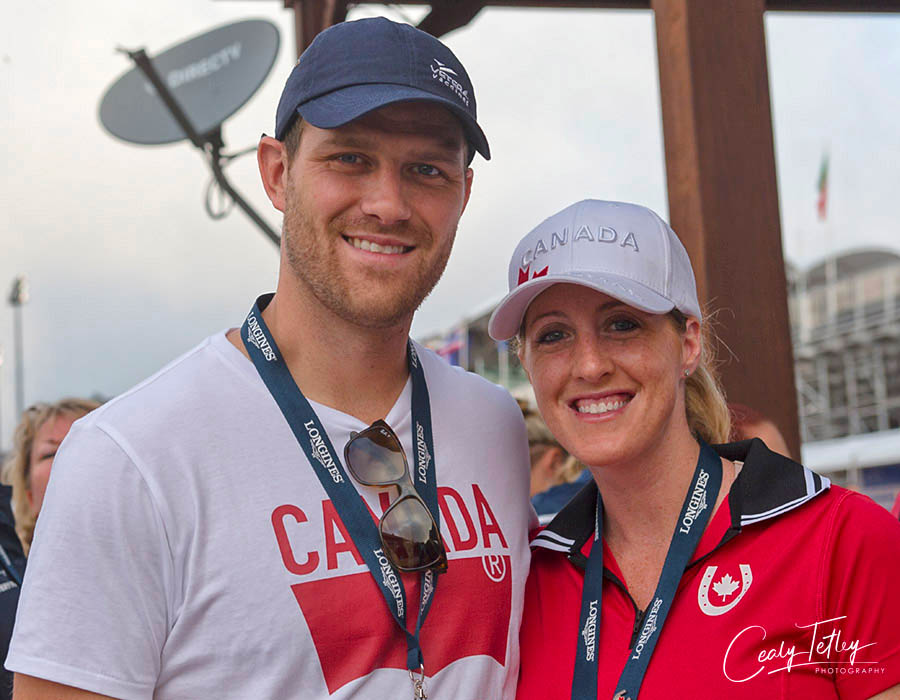 Brittany Fraser-Beaulieu of Saint-Bruno, QC, will be taking a break from competition as she and her husband, Marc-Andre Beaulieu, are expecting their first child in June.

After setting a new personal best score at AGDF 3, Fraser-Beaulieu and All In upped their game with stellar performances during the fifth week of AGDF competition.
Fraser-Beaulieu kicked off AGDF 5 on Feb. 7 with the CDI 5* Grand Prix, where a clean and harmonious test earned a score of 71.304% for the win. Not a pair to rest on their laurels, Fraser-Beaulieu and All In returned to the ring the following day for the CDI 5* Grand Prix Freestyle. Their compelling performance, set to the soundtrack of the 2002 movie, "Spirit: Stallion of the Cimarron", scored an impressive 76.520% to secure the second win of the week.
"My freestyle pattern has a very high degree of difficulty, 9.5/10," said Fraser-Beaulieu. "I find my pattern flows very nicely and I added as many combinations of movements as I could to get extra bonus points. I also have two piaffe pirouettes, which also give you extra points."
Fraser-Beaulieu continued, "To win both the Grand Prix and the Freestyle in the CDI 5* was a goal of mine, but as we all know, until we go down centre line, all we can do is hope for the best. All In went into both classes ready to win, and was totally on my aids and ready to help me achieve my goals."
Having met her dressage goals, Fraser-Beaulieu feels ready to shift her focus to preparing for the new baby – and a break for her means some much-deserved time off for All In, as well. In addition to their recent AGDF performances, Fraser-Beaulieu and All In put in long hours of training for the FEI World Equestrian Games in September 2018, where they finished as the top-ranked Canadian dressage combination.
Fraser-Beaulieu commented, "All In has given me so much success over the course of his career, I am sure some downtime will do him well. He loves turnout – he could stay out for hours – so as long as he doesn't get too fresh, he will enjoy eating grass. I will also have someone ride him a few days a week to keep him active."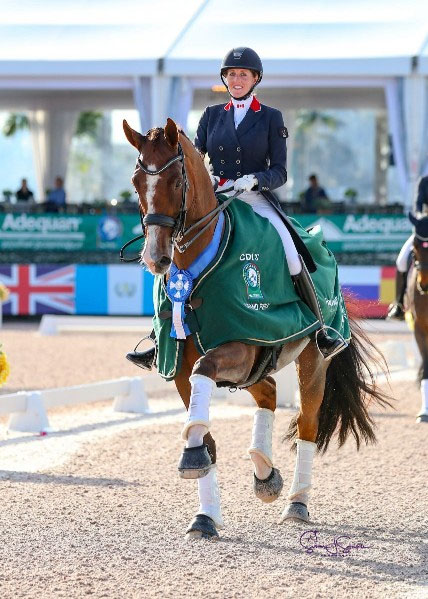 For the moment, that "someone" is Fraser-Beaulieu's coach and four-time Canadian Olympian, Ashley Holzer. Fraser-Beaulieu plans on letting All In enjoy the Florida sun and Holzer's training until mid-April before moving the liver chestnut back to Canada, where he will enjoy several weeks of leisure before Fraser-Beaulieu returns to the saddle.
"I am going to ride him for as long as I feel comfortable, but the real training will be done by Ashley," said Fraser-Beaulieu. "I am so thankful that my pregnancy has been pretty easy and allowed me to have such success, but I don't want to push myself more than I have. I plan on staying as active as I can, so I hope that I will return to the saddle soon after the baby is born. The biggest challenge will be getting fit again, but I have been riding my entire life so I am sure my body will bounce back quickly."
While the break to welcome the family's new addition will mean that Fraser-Beaulieu will miss the 2019 Lima Pan American Games, she and All In are resting easy as they are already proud owners of a silver team medal from the 2015 Toronto Pan Am Games. Instead, Fraser-Beaulieu is keeping her eyes set on the 2020 Tokyo Olympic Games.
"We are ready for Tokyo," confirmed Fraser-Beaulieu, "I think All In is coming into his prime and will be even better next year with an easy four months ahead of him."