Back
Calgary's Kara Chad Scores First Spruce Meadows 'Masters' Victory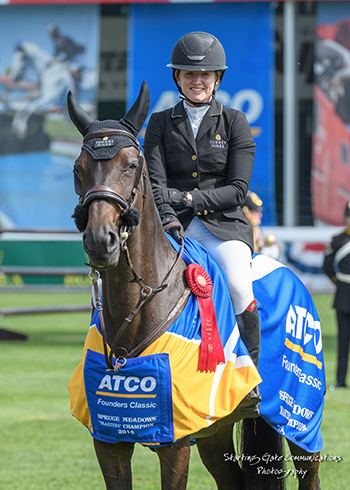 Calgary's own Kara Chad scored the first Spruce Meadows 'Masters' victory of her young career, winning the $35,500 ATCO Founder's Classic on Thursday, September 6, in Calgary, AB.

Chad followed in the footsteps of her coach, Canada's Eric Lamaze, who was victorious on opening day of the 'Masters' tournament, winning the $70,200 1.60m Akita Drilling Cup on September 5 riding Chacco Kid. In Thursday's $35,500 1.50m ATCO Founders Classic, the student beat the teacher, with Chad taking the win while Lamaze finished ninth after electing not to jump-off with Coco Bongo.

A large starting field of 52 entries tackled the tough track set by Venezuelan course designer Leopoldo Palacios with nine jumping clear to advance to the jump-off. Chad took no prisoners in the jump-off, blistering around the shortened track in a time of 37.87 seconds. Ireland's Daniel Coyle gave her a run for the money, but his time of 38.12 seconds aboard Farona was not fast enough to knock her from top spot, leaving him in second place. German Olympic team gold medalist Marcus Ehning took third with a time of 38.52 seconds riding Firth of Lorne.

"It's special to win at Spruce Meadows because it's my hometown, and to be at the 'Masters' competing against the best riders in the world," said Chad. "Eric rode Viva during the Florida season and then passed her to me and she's been super. She surprises us every time she goes in the ring. Whenever we ask her to step up, she does."

"For a young rider, only 22 years of age, to win a competition here at the 'Masters' is a great accomplishment," praised Lamaze, who trains Chad at his Torrey Pines Stable bases in Wellington, FL, and Brussels, Belgium. "By being in Europe and riding so many differing horses for me, Kara has learned a lot about show jumping. She is turning into a fantastic professional. She is not afraid to go out and compete. She used to be timid about taking risks, but now she is really coming into her own."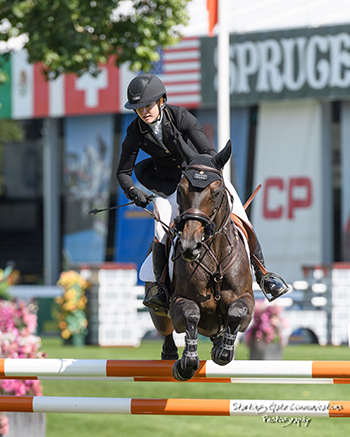 Chad and her winning mount, Viva, competed at the four-week Spruce Meadows 'Summer Series' in June and July, and returned to the 'Masters' ready to win. Chad began riding the nine-year-old Polish-bred Hanoverian mare (Now or Never M x Carbid) this spring, quickly forming a winning partnership.
"Viva is only nine years old and had an incredible summer tour here at Spruce Meadows," said Lamaze of the horse owned by Betsy McCormack in partnership with his Torrey Pines Stable. "To win an international competition here shows that she is a class horse. She is a very modern type for show jumping, and the next few years will be exciting as she continues to develop. The future looks promising for this young mare."

Chad and Lamaze will ride as Canadian teammates in the $460,000 BMO Nations' Cup on Saturday, September 8, joined by Lisa Carlsen of Okotoks, AB, and Ian Millar of Perth, ON. Lamaze will ride Coco Bongo in the prestigious annual event while Chad's partner will be Carona.

Two weeks later, Chad and Lamaze will once again represent Canada at the Fédération Equestre Internationale (FEI) World Equestrian Games in Tryon, NC. Having been the traveling alternate for the 2016 Olympic Games in Rio de Janeiro, Chad will make her major games debut at the World Equestrian Games, which are held every four years and act as the world championships of show jumping.

"I'm very proud of her making the world championship team with Carona, a horse she spent a lot of time developing, in their first year competing at the grand prix level together," said Lamaze of the partnership between Chad and Carona, an 11-year-old grey Dutch Warmblood mare (Untouchable x Silverstone) owned by Torrey Pines Stable. "On top of all this, Kara's best quality is that she is a hard worker who is devoted to the horses. I see a big future for her in our sport. She has everything it takes to succeed."
"I have this incredible opportunity to work for Eric and ride the Torrey Pines horses," said Chad. "He is an inspiration, like he showed us yesterday by winning. He wants it just as much for his students as he does for himself. To have his support is unbelievable. I hope to one day have that drive to win like he does."

Canadian fans unable to be at Spruce Meadows can cheer for Chad and Lamaze during the CBC broadcast of the BMO Nations' Cup on Saturday, September 8 from 6 to 8 p.m. MST.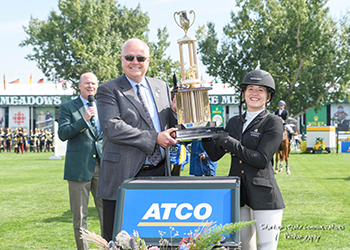 Kara Chad (right) hoists the ATCO Founders Classic trophy with Siegfried Kiefer, President and Chief Strategy Officer, ATCO and Canadian Utilities. Photos by Starting Gate Communications