Back
Robert K. Irving of Windhaven Awarded 2017 Dressage Canada Owner of the Year
Mr. Robert K. Irving of Windhaven in Moncton, NB has been honoured with the 2017 Dressage Owner of the Year Award in recognition of the consistent and impressive results achieved by the farmís elite dressage horses.
Through Windhaven, Robert has been a great supporter of dressage since 1988, owning many of Canadaís top equine athletes, including Donnatella, Soccer City, Dio Mio, Florencia 22, and Hudson 18.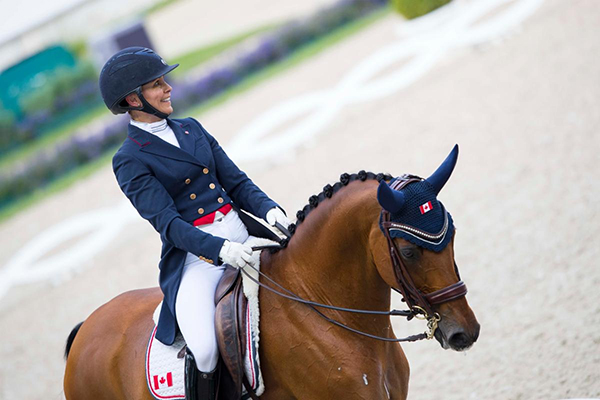 Pictured here, Jill Irving makes her European debut aboard Windhavenís Degas 12 in July 2017 at the prestigious CHIO Aachen in Germany. Photo credit - DigiShots

The newest stars to come from Windhaven are Degas 12 (De Niro x Regazzoni), a 15-year-old Hanoverian gelding, and Arthur (Jazz x Contango), a 12-year-old Dutch Warmblood gelding. Robertís wife, Jill Irving racked up ribbons within Canada and around the world with the two horses in 2017.
Degas 12 entered his fifth season competing with Jill in 2017, with highlights including a strong start at the Adequan Global Dressage Festival (AGDF) in Wellington, FL during the winter months. The duo earned many top-five placings in the big tour, with their best showing coming during the CDIO 3* Stillpoint Farm FEI Nations Cup in March. Their placings of fourth in the Grand Prix (68.480%) and fifth in the Grand Prix Special (69.588%) contributed to the Canadian Dressage Teamís first-ever Gold Medal in the prestigious annual Nations Cup. Plus, their score of 72.875% in the Grand Prix Freestyle proved to be their highest of the season, landing Jill and Degas 12 just shy of the individual podium in fourth place.
The 2017 season also marked Jillís European debut with Windhavenís horses. After earning top-10 placings in June and July at CDI 4* competitions in Austria and Germany, Jill and Degas 12 headed to the renowned CHIO Aachen on a high note. They kicked things off with a score of 67.480% in the Grand Prix for a top-20 placing against the top dressage athletes in the world, then cracked the top 10 in the Grand Prix Special after scoring 69.375% for ninth place.
Arthur also had a stand-out year, entering just his second season at the FEI level. He and Jill made their mark at the AGDF over the winter, with highlights including back-to-back third place finishes in the Grand Prix Special with scores of 68.059% and 68.157%, respectively. From there, Arthur also traveled to Europe with Jill in the summer, earning an impressive second place finish (69.471%) in the Grand Prix Special at the CDI 4* Achleiten in Austria.
Arthur and Degas 12 are just two within a string of accomplished horses that Windhaven has produced over the years. The consistent success of Windhaven horses in the ring is a testament to Robertís conscientious approach to high performance horse ownership.
ďI am so thrilled that my biggest supporter has received recognition for his support in our sport,Ē said Jill of Robertís Dressage Owner of the Year title. ďI would not have such amazing horses and the success Iíve had without his tireless encouragement.Ē
Robert added, ďI am so pleased to have been able to support my wife Jill over the last 30 years in her endeavours and want to congratulate her on her achievements. Jill is passionate about her sport and I know she will continue to compete at the highest level. Iíd like to thank Equestrian Canada for this recognition.Ē
Olivia and Megan Irving accepted the 2017 Dressage Owner of the Year Award on behalf of Robert Irving and Windhaven during a special presentation by Equestrian Canada (EC) Dressage Committee Chair, Victoria Winter and EC Dressage Manager, Christine Peters, on Nov. 9, 2017 at the Royal Horse Show in Toronto, ON.
EC is thankful for the incredible support Canadian Equestrian Team (CET) owners provide by supplying talented horses that enable Canadian athletes to compete on the world stage, and proud to recognize the contributions of owners. For a complete list of past recipients of the Dressage Owner of the Year Award, click here .