Back
John "JT" Taylor Named Jump Canada Official of the Year for 2017
John "JT" Taylor of Mono, ON has been named the Jump Canada Official of the Year for 2017.
Taylor has been a licensed FEI official since 2003, and is currently a Level 3 Jumping Judge, working toward his Level 4 status. Over his 15-year FEI career, Taylor has become well-known for his fair and conscientious judging at countless events across the globe, and dedicates up to 42 weeks per year to judging.
Impressively, Taylor was recently named to the show jumping ground jury for the 2018 FEI World Equestrian Games (WEG) in Mill Spring, NC. This prestigious appointment is a reflection of his world-class reputation as a top international official.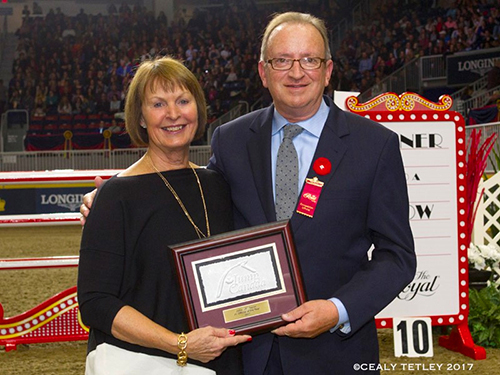 John "JT" Taylor was presented with the 2017 JC Official of the Year Award by Pam Law, Chair of the EC Jumping Committee, at the Royal Horse Show on Nov. 4, 2017 in acknowledgment of his exceptional career as a top FEI Jumping Judge
Other recent highlights of Taylor's illustrious career include officiating at such renowned events as the 2017 Longines FEI World Cup Final in Omaha, NE, the CSI Maastricht in The Netherlands, the American Gold Cup in North Salem, NY, the Split Rock Jumping Tour in Lexington, KY, the Washington International Horse Show in Washington, DC, and Canada's own Royal Horse Show in Toronto, ON.
Taylor's aptitude as an official stems from his decades-long involvement with horses. He grew up riding in the former British colony of Rhodesia (now Zimbabwe). From there, Taylor traveled to England and earned his British Horse Society certification before making his way to Canada. He then met and ultimately married Barbara Mitchell, who became his partner not only in life, but also in equestrian pursuits.
Together, Taylor and Mitchell operated CornerStone Farms until 2004, and also hosted FEI-rated CDI dressage competitions through CornerStone Dressage for 25 years, including Canadian Olympic Trials. The pair's talent and proficiency in competition organization led them to be named to the dressage management team for the 2015 Pan American Games in Toronto, ON.
Furthermore, Taylor has been an active volunteer within the Canadian equestrian community for over 15 years, including seven years as Jump Canada Chair, plus time spent as a Director and Competitions Committee member with the Ontario Hunter Jumper Association (OHJA).
EC is pleased to recognize the sterling reputation Taylor has earned as an FEI official with the 2017 JC Official of the Year Award.
"I am so proud to be named the Jump Canada Official of the Year," said Taylor. "I have been fortunate to work in the sport that is my passion and represent Canada as an international official in several countries. Many thanks to the Jump Committee for the recognition."
About the Jump Canada Official of the Year Award
First introduced in 2004, the Jump Canada Official of the Year Award was created to shed light on the talented and knowledgeable officials who help ensure EC sanctioned competitions are safe, fair, and fun for all participants. Taylor joins a list of distinguished award recipients, which includes Michel Vaillancourt (2016), Chris Brandt (2015), and Jan Stephens (2014). For a full list of recipients, click here.
Past Jump Canada Official of the Year Award Recipients
2016 Michel Vaillancourt
2015 Chris Brandt
2014 Jan Stephens
2013 Kim Morrison
2012 David Esworthy
2011 Harriet Cherry
2010 Sandra Sillcox (posthumously)
2009 Alf Fletcher
2008 David Ballard
2007 Marjorie Dennis
2006 Michel Vaillancourt
2005 François Ferland
2004 Tom Michiel