Back
Jessica Phoenix Wins $20,000 Horseware Indoor Eventing Challenge at the Royal
Jessica Phoenix of Cannington, ON, claimed victory in the $20,000 Horseware Indoor Eventing Challenge in front of a full house on Saturday evening, November 4, at the Royal Horse Show, held as part of the 95th Royal Agricultural Winter Fair in Toronto, ON.
Following Friday night's opening round of competition, riders carried their penalties forward to Saturday night's all-deciding final round. Phoenix, who was sitting second behind Rachel McDonough of Toronto, ON, coming into the final phase of competition, posted the fastest penalty-free time of the night to seal the win. Phoenix was aboard Abbey GS, a 16-year-old bay Canadian-bred Trakehner mare owned by Charlotte Schickedanz.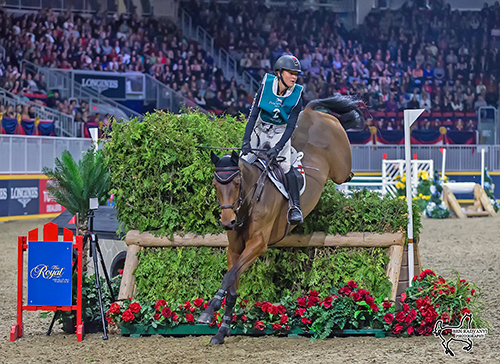 Jessica Phoenix & Charlotte Schickendanz's Abbey GS
"For this event you want a horse that's super careful because if you leave the show jumps up, you've got a good chance of finishing in the top three," explained Phoenix of the key to successfully negotiating the course consisting of traditional cross-country obstacles interspersed with delicate show jumping fences. "Abbey GS is such a fantastic jumper, and she's so brave and so bold that I couldn't have thought of a better horse to bring tonight.
"It's so fun to be able to demonstrate this incredible sport in front of this many spectators, which is something that we don't often get to do," continued Phoenix, 34, who won individual silver and team bronze medals at the 2015 Pan American Games. "I think it's incredibly important for our sport."
With two fault-free performances and a two-round combined time of 198.12 seconds, Phoenix took the win over Brandon McMechan of Toronto, ON, who was the only other rider to jump clear both nights riding Oscar's Wild.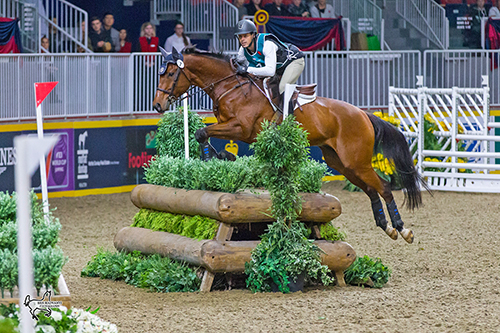 Brandon McMechan & Oscar's Wild

U.S. Olympian Boyd Martin finished third in his Royal Horse Show debut, bouncing back from five penalty points on Friday night to jump clear over the course set by Mark Phillips.
"It's unbelievable; I had no idea that the Royal Winter Fair was this awesome!" exclaimed Martin, who was riding Kyra for owner Christine Turner. "I would have come many years before had I known. I got to experience the food, and the cows, and the pigs, and the goats. I probably spent way more money than I should have in the trade fair, and then finally got to the riding tonight."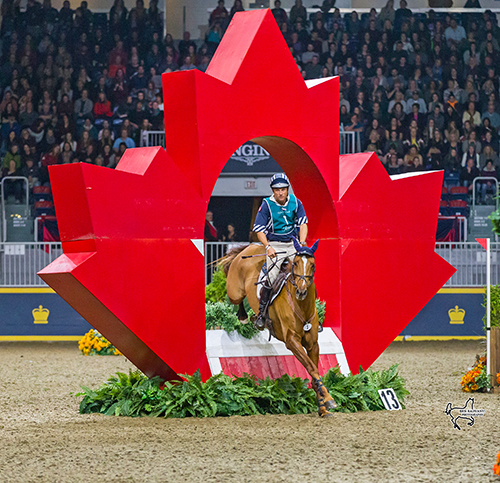 Boyd Martin & Christine Turner's Kyra
Offering something for every fan of horse sport, the Royal Horse Show continues on Sunday, November 5, at 8 a.m., highlighted by the $15,000 Braeburn Farms Hunter Derby at 1:30 p.m.
Royal Horse Show VIP subscriptions, group, and individual tickets are now on sale and are expected to sell-out on multiple nights during the Royal Horse Show. To purchase tickets, click here.
For more information on the Royal Horse Show, the marquee event of The Royal Agricultural Winter Fair, please visit http://www.royalfair.org/horseshow . For a behind-the-scenes look at the Royal Horse Show, follow The Royal Agricultural Winter Fair on Facebook , @royalhorseshow on Twitter and @theroyalfair on Instagram . Tag the Royal Horse Show using #RAWF17, #royalfever, #FEIWorldCup, #Longines, and #RideToParis.
Funding support for The Royal has been provided by the City of Toronto and the Government of Ontario.
$20,000 Horseware Indoor Eventing Challenge Results – Saturday, November 4
Rider Hometown Horse Rd. 1 Rd.2 Time

1. Jessica Phoenix Cannington, ON Abbey GS 0 0 198.12
2. Brandon McMechan Toronto, ON Oscar's Wild 0 0 212.99
3. Boyd Martin Unionville, PA Kyra 5 0 184.16
4. Rachel McDonough Toronto, ON Irish Rhythm 0 5 187.59
5. Holly Jacks Orangeville, ON More Inspiration 5 0 194.67
6. Waylon Roberts Port Perry, ON Lancaster 5 0 199.17
7. Selena O'Hanlon Kingston, ON Up Town Girl 10 5 197.97
8. Dasha Ivandaeva Newmarket, ON Autorytet 10 10 196.63
About The Royal
The Royal Agricultural Winter Fair is the world's largest combined indoor agricultural and equestrian event. The 95th Royal Agricultural Winter Fair runs November 3-12, 2017, at Exhibition Place, Toronto, Canada. For competition schedules, live webcasting, results and to purchase tickets, please visit www.royalfair.org .