Back
Selena O'Hanlon Becomes First Canadian in History to win Fair Hill International
Canadian Olympian Selena O'Hanlon of Kingston, ON made history with her first-place finish in the CCI 3* division at The Dutta Corp. Fair Hill International, held Oct 12-15, 2017 in Elkton, MD.
According to EquiRatings, O'Hanlon is the first Canadian to win the Fair Hill CCI 3* since its inception in 1989.
O'Hanlon explained that she and long-time partner, Foxwood High - a Canadian Sport Horse sired by Rio Bronco W and affectionately known as "Woody" - laid down personal bests for each phase at the 3* level, including a standout score of 39.4 in dressage to take an early lead.
"Thanks to Christilot Boylen's help, Woody and I have been getting more confident in the dressage phase," O'Hanlon said. "It was helpful to have David O'Connor there to warm us up. We've been working on suspension and elevation throughout the test."
Moving on from dressage, the pair had an impressive cross-country performance, incurring no jumping and just 1.60 time faults over the challenging track set by Tokyo 2020 Olympic course designer, Derek di Grazia of the United States.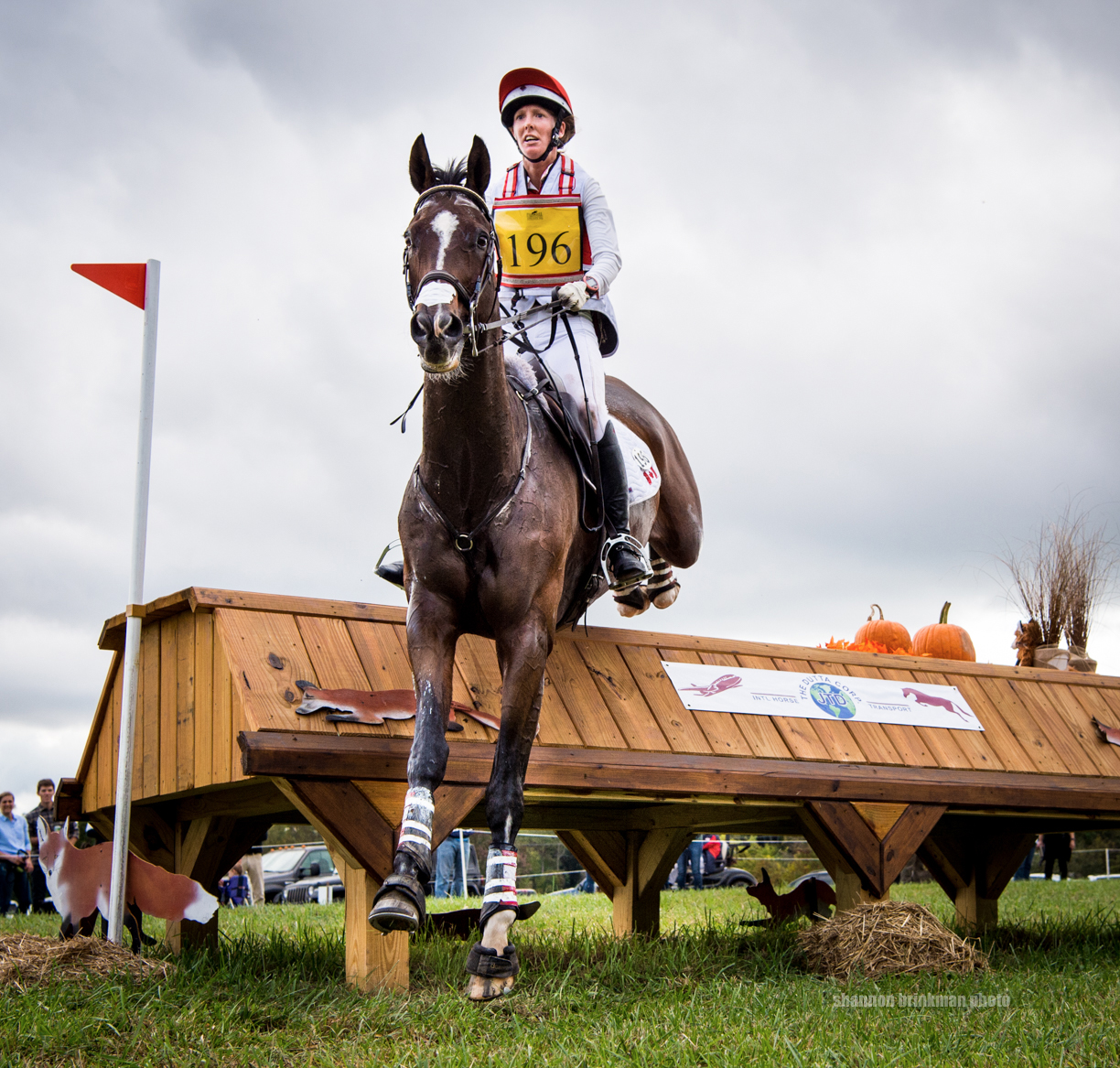 Selena O'Hanlon and Foxwood High slipped to second after a cross-country run that incurred no jumping and just 1.60 time faults, but quickly recovered the lead after show jumping. Photo - Shannon Brinkman Photo

Following cross-country, O'Hanlon was in second place, but reclaimed top spot after intentionally taking her time in the final show jumping phase to leave all the rails up. Her patience paid off, as even though she added three time penalties, her final score of 44.00 was more than enough to secure the win over next-best, William Coleman III of the United States who finished on 46.30 penalties with Tight Lines.
O'Hanlon believes the sky is the limit for her and John and Judy Rumble's 14-year-old gelding.
"I've loved Woody right from the start," she said. "He's all heart and has the biggest fan club of any horse I've ever met. People from all over the world write, call and want to visit Woody. What's not to love? He's tall, dark and handsome, tries his guts out and is sweet and easy as pie to work with."
To top an already impressive win, O'Hanlon collected two additional trophies over the weekend: The Linda Moore Trophy for highest placed foreign entry and The Beale Wright Morris Memorial Trophy for the leading lady of the CCI 3*.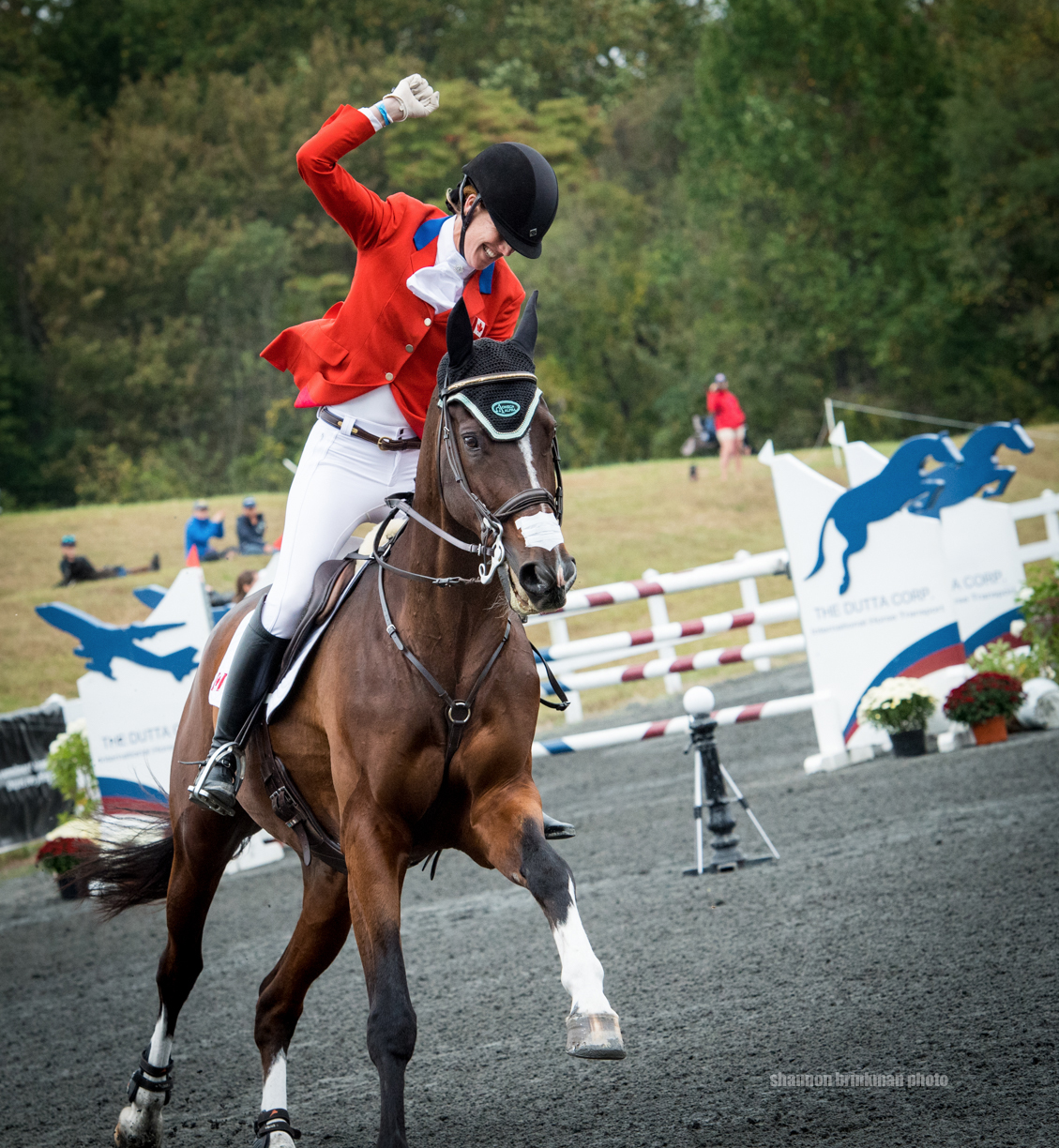 Canadian Olympian, Selena O'Hanlon of Kingston, ON made history at the 2017 Fair Hill International, after winning the CCI 3* division aboard Foxwood High. Photo - Shannon Brinkman Photo
Colleen Loach of Dunham, QC, also made her mark in the CCI 3* division. She started out with a score of 50.00 penalties in dressage for 25th place aboard her Rio 2016 partner, Qorry Blue D'Argouges, a 13-year-old Selle Francaise gelding, sired by Mr. Blue and owned by Peter Barry.
However, she made an impressive leap to 15th place following cross-country, having added no jumping and 7.60 time penalties. The highlight of Loach's performance came in show jumping, where a foot-perfect round kept her score at 57.60 for 12th place overall. This adds another successful result to Loach's season with Qorry Blue d'Argouges, having earned second place and the Stuart Horne Canadian Championship Award in the CIC 2* division at the 2017 PEDIGREE® Bromont CCI 3* Three Day Event this past June.
Waylon Roberts, a Canadian currently residing in West Grove, PA, and Jessica Phoenix of Cannington, ON, rounded out the Canadian contingent in the CCI 3* top 20, placing 14th and 15th respectively. All four Canadian athletes in the CCI 3* had a particularly strong cross country round, with not a jumping fault between them.
Roberts finished on a total score of 58.60 penalties aboard Kelecyn Cognac, a 14-year-old Thoroughbred gelding owned by Anthony Connolly and L. Skye Levely. Phoenix's final score proved to be 59.00 with her veteran silver medalist partner from the 2015 Pan American Games, Pavarotti (Pavarotti van de Helle x Foxiland), a 15-year-old Westphalian gelding owned by Don J. Good.
In the CCI 2* division, Lindsay Beer of Springwater, ON, came back from a 14th-place start after dressage to round out the top 10 with Kennystown Frankie, her 10-year-old Irish Sport Horse gelding, sired by Frankfort Boy. A foot-perfect cross-country course, followed by just a single rail in show jumping put Beer's final score at 56.00 penalties.

In addition to Roberts' admirable performance in the CCI 3* division, he also had impressive results in the USEA Young Event Horse East Coast Championships.

In the 4-Year-Old division, Roberts placed second with Café Noir (Concerto Grosso x Casey Darling), a Thoroughbred-cross owned by Nancy Koch. Roberts' final score of 85.27% put him only 0.73% behind first place, indicating big things to come for the duo. Plus, in the 5-Year-Old division, Roberts placed seventh on a total score of 75.60% with Irish Sport Horse, Wil Celtic Charlie, who is owned by Aletta Martin.
"Nothing can get the Canadians down," O'Hanlon said of the group's performance. "We're not going to let anything stand in the way of doing our very best. And as it turns out our very best is turning out to be pretty darn competitive on the world stage!"
For more information and full results from the 2017 Fair Hill International, visit www.fairhillinternational.com .
30 -
Fair Hill International – Top 20 Canadian Results
CCI 3*
Placing / Rider / Horse / Owner / Final Score
1st / Selena O'Hanlon / Foxwood High / John & Judy Rumble / 44.00
12th / Colleen Loach / Qorry Blue D'Argouges / Peter Barry / 57.60
14th / Waylon Roberts / Kelecyn Cognac / Anthony Connolly & L. Skye Levely / 58.60
15th / Jessica Phoenix / Pavarotti / Don J. Good / 59.00
CCI 2*
Placing / Rider / Horse / Owner / Final Score
10th / Lindsay Beer / Kennystown Frankie / Lindsay Beer / 56.00
Young Event Horse – 5-Year-Old
Placing / Rider / Horse / Owner / Final Score
7th / Waylon Roberts / Wil Celtic Charlie / Aletta Martin / 75.60%
18th / Kelli Temple / Caleesi / Kara Angulo / 70.90%
20th / Waylon Roberts / Miks Master C / Lauri Cameron / 70.68%
Young Event Horse – 4-Year-Old
Placing / Rider / Horse / Owner / Final Score
2nd / Waylon Roberts / Café Noir / Nancy Koch / 85.27%