Back
Canada Second in Great Meadow International FEI Nations' Cup™ Eventing
For the second consecutive year, the Canadian Eventing Team earned an impressive second place finish in the CICO 3* FEI Nations' Cup™ Eventing, held at the Great Meadow International in The Plains, VA.
The 2017 Great Meadow International, presented by Adequan® and held July 7-9, 2017, marked just the second time an FEI Nations' Cup Eventing has been hosted in North America.
Canadian Eventing Team members, Lisa Marie Fergusson of Vancouver BC, Selena O'Hanlon of Kingston, ON, Jessica Phoenix of Cannington, ON and Waylon Roberts of Port Perry, ON once again stepped up to the challenge, earning their second place finish with the added distinction of racking up two of only three double-clear cross-country rounds achieved out of the 32 starters.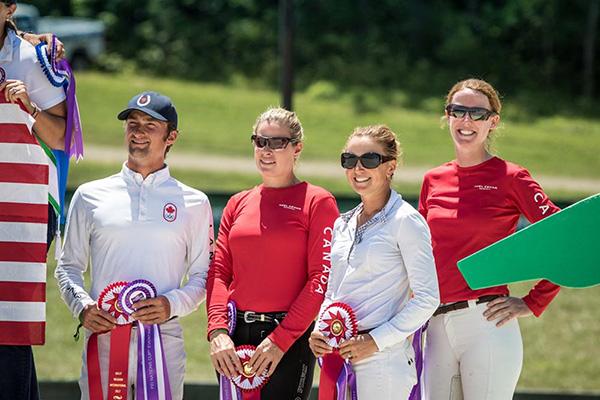 L to R: Waylon Roberts, Lisa Marie Fergusson, Jessica Phoenix, Selena O'Hanlon
photo: RedBayPhotos.com
Canada's second place finish came on a total team score of 168.6. The United States took first on a score of 151.5, while Great Britain finished third with 1111.1.
O'Hanlon led the Canadian Eventing Team to the podium paired with her long-time partner, Foxwood High, a 14-year-old Canadian Sport Horse gelding sired by Rio Bronco W and owned by John and Judy Rumble. The duo started out in fifth place after a dressage score of 46.9, and moved to ninth place following a show jumping performance that added eight jumping faults for two rails.
However, they jumped up to their final placing of fifth after a foot-perfect cross-country performance. Together, O'Hanlon and Foxwood High navigated the 23 obstacles set by FEI 4* Course Designer, Mike Etherington-Smith of Great Britain, without adding a single penalty to finish on their show jumping score of 54.9.
"I really enjoyed being on a team again," said O'Hanlon, who represented Canada aboard Foxwood High at both the 2011 Pan American Games and 2014 FEI World Equestrian Games. "I love having us all in one aisle together, united as a huge family – cheering each other on and stepping up to the plate. I enjoyed the pressure of wanting to do well, not just for myself, but for my team."
Speaking to her performance, O'Hanlon continued, "I was so pleased with Woody's performance in dressage. He got a score of 9 for his first change, and I received an 8 for my riding. I was disappointed in our two rails in show jumping, but I will be heading to Millar Brooke Farm as soon as possible to focus harder on this phase. Cross-country was exhilarating for both of us – it is pure bliss every single ride with this horse. Thank you to John and Judy Rumble for the chance to ride this incredible horse."
Finishing just behind O'Hanlon in sixth place was teammate Phoenix, who was also riding a veteran partner, Pavarotti (Pavarotti van de Helle x Foxiland), a 15-year-old Westphalian gelding owned by Don J. Good. Together, Phoenix and Pavarotti have individual gold and silver medals under their belt from the 2011 and 2015 Pan American Games. Their depth of experience shone through during the nations' cup as they started strong in dressage, scoring 44 for second place. They followed up with an impressive double-clear show jumping round to take over the lead. On cross-country Phoenix and Pavarotti added no jumping, but 12.4 time penalties to finish on a final score of 56.4.
"I was so proud of Pavarotti in all three phases," said Phoenix, a three-time Canadian Olympian. "He felt competitive and relaxed the entire weekend and he really enjoyed himself. Thank you to Don Good for all his support with this amazing horse."
Phoenix also spoke to the team culture, stating, "We had an amazing team of horses and riders that worked cohesively together. There is nothing better than standing on the podium with such a close-knit group of people. This nations' cup gives us a unique opportunity to practice competing as a team. It is so nice to be able to connect with our team riders and support staff outside of a major games."
Also earning a top-10 finish individually was team member, Roberts, aboard Kelecyn Cognac, a 14-year-old Thoroughbred gelding owned by Anthony Connolly and L. Skye Levely. A dressage score of 49.3 put the pair in ninth place initially, and they moved to 12th after lowering two rails for eight penalties in show jumping. However, like O'Hanlon, they completed a flawless cross-country round to shoot up the leaderboard, finishing in eighth place on a total score of 57.3.
Team member, Fergusson, landed in 16th place individually, partnered with Honor Me, her 11-year-old Welsh Sport Horse gelding sired by Brynarian Brenin. Together, they finished on a total score 71.5, with the highlight of their weekend coming in the cross-country phase where they added no jumping and just two time penalties.
The Canadian Eventing Team was supported at the Great Meadow International by Chef d'Équipe and EC Eventing High Performance Advisory Group Chair, Dr. Rob Stevenson and EC Eventing Manager, Fleur Tipton. In addition, the Canadians benefited from the experience and support of David O'Connor.
"When David stepped down from his position as US Eventing Technical Advisor, we approached him to see if he would be available in consultation for Canadian athletes," said Dr. Stevenson, explaining that O'Connor had previously served as the EC Eventing Technical Advisor from 2006 to 2012, helping the Canadian Eventing Team to gold and silver medals at the 2007 and 2011 Pan American Games and 2010 FEI World Equestrian Games. "Many of our athletes did in fact come of age in the sport under his tutelage, thus it was a natural step to ask once again for his assistance."
For more information and complete results from the CICO 3* Great Meadow International, visit www.greatmeadowinternational.com . More information on the FEI Nations' Cup Eventing series can be found here .
Top 20 Canadian Results – CICO 3* Great Meadow International
*Denotes Canadian Eventing Team athlete

Placing / Rider / Horse / Owner / Score
5th / Selena O'Hanlon* / Foxwood High / John & Judy Rumble / 54.9
6th / Jessica Phoenix* / Pavarotti / Don J. Good / 56.4
8th / Waylon Roberts* / Kelecyn Cognac / Anthony Connolly & L. Skye Levely / 57.3
14th / Holly Jacks-Smither / More Inspiration / Holly Jacks-Smither & Bruce Smither / 66.9
16th / Lisa Marie Fergusson* / Honor Me / Lisa Marie Fergusson / 71.5
19th / Rachel McDonough / Irish Rhythm / Rachel McDonough / 85.8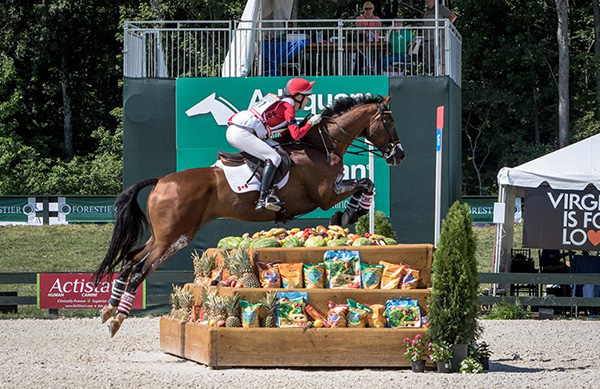 Selena O'Hanlon of Kingston, ON led the Canadian Eventing Team to the podium paired with her long-time partner, Foxwood High, owned by John and Judy Rumble. The duo were one of only three entries to achieve a double-clear cross-country round, putting them in fifth place individually.
photo: RedBayPhotos.com