Back
Canadian Eventing Chair Peter Gray Named Coach of Columbian Eventing Team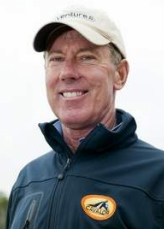 Peter Gray, the current head of Canada's Eventing Committee, has been named the Team Coach of the Columbian Eventing Team.
EventingNation.com reports that Gray recently traveled to Bogotá, Columbia to meet with the riders and watch them compete in a national 1*/2* championship. While there he provided advice on a short term training plan in anticipation of his first training camp in January 2017.
Columbia's Eventing team finished in eigth place at the 2015 Pan American Games held in Toronto, and have their sights firmly set on the Tokyo 2020 Olympics.
It is not clear whether Gray, who has also filled the Team Coach position for Venezuela & Guatamala, would step down from his leadership role with the Canadian Eventing Committee while formally engaged by Columbia to work in the best interests of their athletes and program.

Gray was born in Bermuda, and competed under the Bermudian flag in both the 1984 and 1988 Olympics. He became a Canadian citizen in 1995 and was the Canadian team coach for the 1996 and 2000 Olympic Games. In 2004, he was selected as the alternate for the Athens Olympic Games.
He has been Chair of the Canadian Eventing Committee since 2014.

Further Coverage