Back
Britainís William Fox-Pitt leads after day one in Olympic Eventing in Rio
Itís not everyoneís idea of the perfect rehab for a serious head injury, but Britainís William Fox-Pitt defied all the odds to take the early lead as Olympic Eventing got underway at the Deodoro Olympic Park in Rio de Janeiro (BRA) today.
Riding the 16-year-old stallion, Chilli Morning, the man who spent two weeks in a coma after a fall while competing in France last October produced a great score of 37.00 in the opening dressage phase of this sport that is seen as an equestrian triathlon.
ďAll along Rio has been my target, totally. It was unrealistic, but it was mineĒ, the 47-year-old said. ďI was in a coma for a couple of weeks and my sight was quite dodgy, I went from blind to seeing double so when I started jumping there were two jumps. Itís been a journey, but Iíve had so much support! Mentally I was very tired, I probably still am. I feel like Iím waking up, but slowly.Ē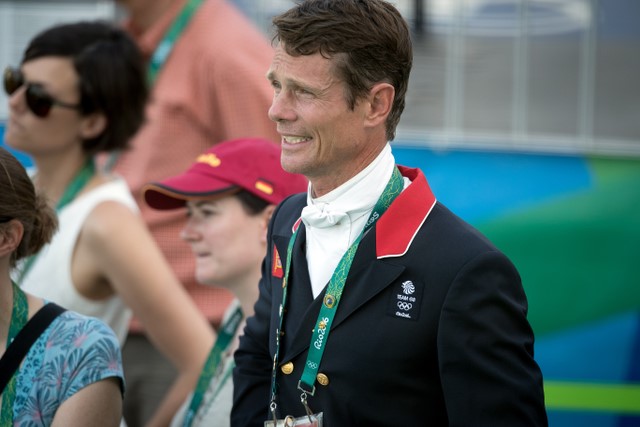 He was chasing the target of 37.60 set by Australiaís Christopher Burton (34) and his young nine-year-old gelding, Santano II, whose performance was greeted by a roar of approval from the crowd. But when Fox-Pitt overtook his Aussie rival by a mere .6, the gentlemanly Brit was rewarded with another huge response from the spectators.
His result, added to the 47.20 achieved by team mate Gemma Tattersall (31) with Quicklook V, leaves Team GB in third before the remaining 31 horse-and-rider combinations take their turn in the dressage phase tomorrow. But itís very tight at the top of the teams, with London 2012 gold medalists Germany in first on 82.5, just 1.5 ahead of Australia in second. Great Britain, on 84.2, is third of the 13 teams.
Just behind Burton in the individual rankings is defending Olympic champion Michael Jung (34) on Sam, the horse he rode to spearhead the Germany team win four years ago. On a mark of 40.90 Jung is just ahead of his compatriot and reigning world champion Sandra Auffarth, who lies fourth with Opgun Louvo on 41.60.