Back
Canadian Eventing Team in Top 10 After Day One of Dressage at Rio 2016 Olympic Games
The Canadian Eventing Team is currently sitting in ninth place after two of four athletes completed the dressage phase for eventing at the 2016 Rio Olympic Games in Rio de Janeiro, BRA on Aug. 6, 2016.
The opening day of equestrian competition at the Games featured 33 of the total 65 eventing athletes competing in the dressage phase. The remaining athletes will enter the stadium on Aug. 6, including Canada's Colleen Loach and Rebecca Howard. As a team, Canada is currently sitting in ninth place after two riders on a team score of 101.40. Germany is leading with 82.50, with Australia following in second (83.90) and Great Britain in third (84.20).
Phoenix, 32, from Cannington, ON was not only the first Canadian into the ring, but the first athlete of the Games to enter the main competition arena at the Olympic Equestrian Centre, located in the Deodoro zone.
"Opening up the Rio 2016 Olympic Games was a huge honour for A Little Romance and I," said Phoenix, now a two-time Olympian, having also attended the London 2012 Olympic Games, where she was the highest-placed Canadian in eventing, finishing 22nd individually.
Partnered with A Little Romance (A Fine Romance x Donaufurst), an 11-year-old Thoroughbred/Trakehner mare owned by Donald Leschied, Phoenix earned a score of 52.00 penalties after completing a precise dressage test, and is currently standing in 25th place.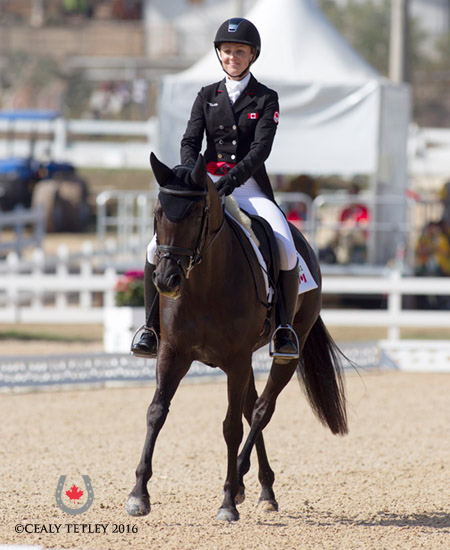 "I couldn't be happier with A Little Romance, it was her personal best and my personal best at an Olympics," Phoenix commented. "I'm extremely proud of what she did in that ring today. She relaxed and enjoyed every minute of it and it was just a lot of fun."
Also competing for Canada on day one of the dressage phase was Kathryn Robinson, 31, of Kettering, GBR, who was making her Olympic debut. Riding her 15-year-old Westphalian gelding, Let It Bee, Robinson is currently sitting in 21st place individually on a score of 49.90 penalties.
"I was really happy with the way my horse went, he did everything I asked," said Robinson, who earned marks of 7.5 and 8 from the judges for many individual movements, including counter canter, half-pass and extended canter. "I think this has been my best season so far, so hopefully it keeps going in that direction here in Rio."
First up for Canada on day two will be Loach, 33, making her Olympic debut aboard Qorry Blue d'Argouges, a 12-year-old Selle Francais gelding sired by Mr. Blue and owned by fellow Canadian Olympian Peter Barry. Howard, 37, from Marlborough, GBR will round out the Canadian performances in the dressage phase, partnered with her London 2012 Olympic mount, Riddle Master (Rodero x Eyes to Rule), a 15-year-old Canadian Sport Horse owned by Blithe Hill Farm.
A total of 65 starters, including 13 teams, from 24 countries are contesting the sport of eventing at the Games. Canada is the only eventing team with an all-female roster. Following the completion of the dressage phase, athletes will move forward to the fan-favourite cross-country phase on Aug. 8, Eventing will wrap up with the show jumping phase on Aug. 9, when both team and individual medals will be handed out.
Full Olympic Schedule

For more information on equestrian events at the 2016 Rio Olympic Games, including the full schedule of equestrian competition and live results, please visit www.rio2016.com/en/equestrian .
Watch on CBC Livestream
http://olympics.cbc.ca/online-listing/
photos TetleyPhoto.com