Back
Equine Canada's New Name, New Logo, New Website...oh yeah, and New Olympic Team
After much hype, which started back in April, Equine Canada (EC) launched their new branding and website this past week, and formally announced the athletes who will be representing Canada at the Rio Olympics this summer.
Equine Canada first revealed the new branding at their April convention in Montreal. At the time, EC stated the official launch of the new brand, including a new website, would take place in June 2016.
Fast forward to a month and a half later to July 14 where the official launch took place at Wesley Clover Parks during their Ottawa National Horse Show.
Olympians Get Third Billing
Consistent to how EC has been promoting the July 14th event over the last few weeks, the official announcement of Canada's Rio Olympic Equestrian Team received third billing at the event itself, behind the official launch of the new brand and website.
Even on the new website, it is the new brand, logo and website that gets the pride of place with our Olympic athletes coming a distant second in prominence.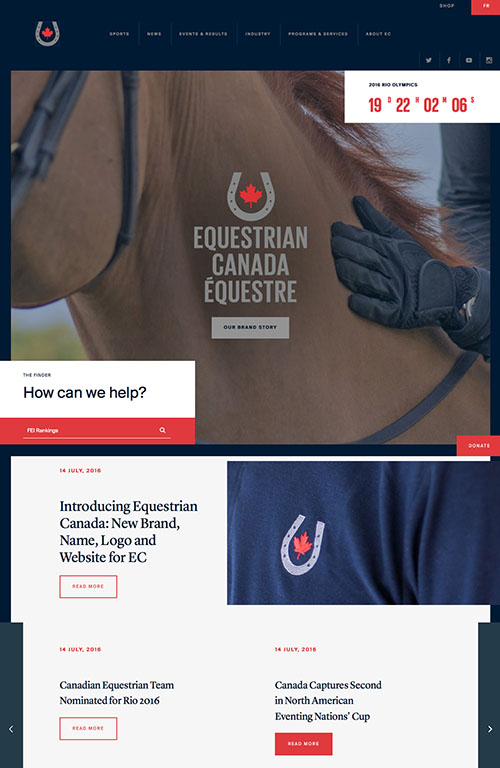 Sadly No Rio Athletes
It was surprising to note the absence of any Rio-bound athletes at the much-touted event. While it was impossible for members of the Olympic Jumping Team to have attended in person (they are currently competing in Aachen, Germany), we expected to see at least one or two athletes from Dressage or Eventing there. Sadly, not a Rio Olympian was to be found.
While the event started with the rebranding project taking centre stage, one might have expected the event to finish with a standing ovation send-off for our Canadian Olympic Equestrian Team. Instead, the event finished as it had begun when new EC President Jorge Bernhard called all EC staff to the front and asked the crowd to applaud their hard work and countless hours on the rebrand project.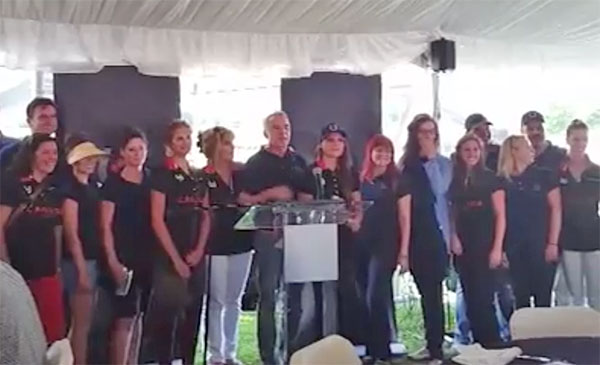 Unfortunately there was so many staff present, we couldn't fit them all in the picture!
Community Not Invited?

Although the launch was held during the Ottawa National Horse Show at Wesley Clover Parks, the general equestrian community was only invited to attend via Facebook Live.
For a sport and an organization that has been regularly criticized as being "elite" and out of touch with the grass roots community who are its lifeblood, it seemed like a very exclusive move to not invite the general equestrian community to the big event. And even stranger to hold the event in what appeared to be a VIP tent at the horse show. This action seems to be contrary to what CEO Eva Havaris says in one of the many promo videos "EC has for too many years has been separate from it's community, and we're not that. "
Furthermore, the Facebook Live feature seemed to have had its own set of issues. While we were watching the livestream, the number of people tuning in appeared to be between 11-25 viewers at various points during broadcast. We later learned that some were unable to connect at all.
Disciplines Getting Redefined?
And speaking of the new website, while we think it's great that it's much more visual, we couldn't help but notice some unusual picture choices to represent the various equestrian disciplines.
This includes 2012 Eventing Olympian Hawley Bennett-Awad for Para-Equestrian, and a non-Breed Sport horse for Breed Sports.

Two Websites - One Organization

Even more bizarre is the fact that the old website is still live, along side the new website .
This might be because even though the new website launch is a month overdue, there appears to be a substantial amount of missing information including portions of rulebooks and documents.
It seems to go against the typical "best practice" of a successful rebrand where you want the biggest impact possible, and not have conflicting brand messaging.
New Logo? You be the Judge
Since the new logo was first introduced in April of this year, there's been chatter both on the Internet and in tackrooms across the country about this exercise.
It came as a surprise to many that the new branding looks almost identical to the existing Canadian Equestrian Team (CET) branding that has been in active use for quite some time.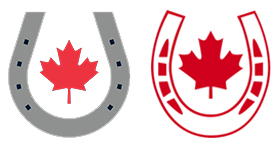 And even more surprising when the rebranding agency described their thought process behind "creating" this "new" brand.

"There's no way to illustrate one horse that speaks to the organization. Then we discovered the horseshoe maple leaf which appeared from the 1950's...that really became the challenge: how do we find that right, classic iconic form and balance it with technical accuracy." ~ Hulse & Durrell
We're not quite sure why this posed a challenge to the agency, when the CET logo has been in it's current form, and actively used by Equine Canada (and previously the Canadian Equestrian Federation) for almost 20 years now.
We're also wondering why the choice of silver for the horseshoe, which is typically the colour associated with second place, as opposed to gold. (Maybe Equine Canada felt that "going for gold" isn't very "Canadian"?)
Show Me the Money

For an organization that has regularly struggled with supporting programs for athletes, officials, equine welfare initiatives and "member" services on a shoestring budget, there have naturally been questions as to the pricetag associated with this rebranding exercise.
As with any organization, those who pay annual dues and fees want to ensure that their money is being well spent with tangible benefits being felt to the everyday person.
Those questions become even bigger when it was revealed that the company contracted with the rebranding project is Hulse & Durrell , who has worked with organizations such as the International Olympic Committee, Vancouver 2010 Olympic Organizing Committee, and the Canadian Olympic Committee - all bodies whose pockets are substantially deeper than Equine Canada's.
Unfortunately we're not sure if the costs for the branding and website project will be made public, since the new Bylaws passed last year means that the equestrian community who contribute financially to the organization are no longer entitled to see the year end financial statements.
Does Equine Canada Still Exist?
We've been asking ourselves this question. According to the Canada Not for Profit Act , a fundamental change in an organization can only happen if there is a vote by membership class, whereby there needs to be a 2/3 majority in favour from each class (special resolution).
Unfortunately the inner workings of the organization are now hidden from the community at large thanks to the signifiant re-structuring that happened in 2015 whereby the votes of all members to EC were removed and instead placed in the hands of a select 27 individuals. So we're not sure if there has been a special meeting called to formally change the name of the organization from Equine Canada to Equestrian Canada. Given that the email addresses for EC, and outside organizations such as the FEI and the Canadian Olympic Committee are referring to "Equestrian Canada" in press statements, one could assume yes.
However in reviewing the websites of Industry Canada , Sport Canada , the FEI and the Canadian Olympic Committee , all still refer to Canada's governing body for equestrian sport as: Equine Canada.

EC now solely High Performance Sport Focused?

It also raised the question for some if utilizing an existing brand that represents the CET meant that Equine Canada was now going to exclusively focus on high performance sport vs. being an organization that served all equestrian enthusiasts - a criticism that EC has fought to combat for quite some time.
When looking at EC's staff directory, it certainly seems to suggest that this is the case. The newly created High Performance Department has grown quickly in the 1 year of it's existence to be 10 current staffpersons, with the HP Director position still not filled since the surprising departure of Amie O'Shaughnessy earlier this year.
What will the new Branding do?
In the official press release , EC President Jorge Bernhard stated : "EC's new brand creates unity across the entire Canadian equestrian community. This opens the door for more impressions, more influence, more recognition, and more revenue for EC to put back into the community."
This is definitely a very lofty statement, however is missing the actual details on how those impressions, influence, recognition, and most importantly revenue, will be increased. And also how EC plans on putting all of this back into the community.
History Repeating Itself?

Many might remember the substantial re-organization and re-branding that happened in 2000, when the Canadian Equestrian Federation became Equine Canada. At the time, that was touted as the dawn of a new era that would bring together all equestrian facets under one roof - with a new name and new logo that would symbolise this. Sound familiar?
In one of the many promo videos Equine Canada has produced, you can find this statement:
"We want to be relevant to kids and to families, we think that we have a pretty amazing opportunity to offer, which is an experience with a horse." - EC CEO Eva Havaris

If we re-wind to 2007, we found this statement made by Equine Canada's then Audit Committee in their "EC 20/20" White Paper vision statement:
"Every child has the opportunity for an equestrian experience"
Interestingly at that time, it was identified as an immediate priority to pursue governance reform to "increase democracy" with the strategy being to increase democratic participation in EC elections by entitling individual members to one vote.
This was reversed in 2015 when the new Bylaws removed the votes of individual members and placed it in the hands of a select 27 individuals.

Governance
EC also has a promo video devoted excusively to the changes they claim to have done with governance. Although the CEO and Vice-President both seem to tout the changes as revolutionary, we're not so sure the community would agree.
When talking about the changes, EC Vice-President Tony Eames states "We have a Board of Directors supported by governance committees and the volunteers are in those committees on their board to govern, not to run the organization."
But in looking at the previous governance documents , which governed EC from 2006-2016, it includes statements such as:
The board is accountable to the membership for competent, conscientious and effective governance.
Board committees are to help the board do its job, not help the staff do its job.
In reading this, we're having trouble understanding what are the significant governance changes that are purported to have been done.

CEO Eva Havaris goes on to say "By changing the Bylaws and changing the governance structure, that then allowed us to accelerate a lot quicker on some of the strategy pieces - the brand piece, really start to focus on our athletes and community more. "
Aside from a significant increase in office staff, reducing the equestrian community voting voice to 27, and putting "countless hours and hard work" into a rebranding project, we haven't yet seen any evidence of new services & programs that are focused on athletes and the community.
Actions Speak Louder...
Ultimately, it will be EC's actions that will tell the equestrian community if the time and money spent by the current regime will bear fruit for our athletes, officials and the everyday horseperson.
It would be easy to say that this April's EC Convention, July's brand relaunch and the barrage of associated promo videos cluttering EC's Facebook page appear to be a vanity project, however we are holding out hope that there will be some substance making its appearance soon.

Otherwise, the Canadian equestrian community could be faced holding the debt for a house that has fantastic landscaping and new paint job on the outside, but the inside still has the same rickety staircase, dodgy wiring and rotting floorboards that can't support any weight.