Back
Canadian Dressage Olympic Campaign Rollercoaster Continues
The campaign for a ticket to the Rio Olympics continues to be an interesting ride for Canada.

It began last year, when Equine Canada made the very unusual decision to keep the Olympic selection criteria top secret and only share with high performance athletes "upon request".

In a world where high performance sport is coming under increasing scrutiny due to poor governance, corruption and closed doors, this was a very surprising move. Even more so when up until this new administration at EC, major games criteria in previous years had always been available to the public.

Fast forward to the beginning of 2016 when athletes started their Olympic campaigns. As results started to come in from the Florida circuit, dressage fans relied on the media to provide information on the Canadian Olympic leaderboard standings to see how their favourite rider were doing. At that point, Equine Canada was providing no information - not even a list of who the actual declared riders were.

That did change near the end of the Florida season, when Equine Canada finally relented and published a list of declared horse/rider combinations . And then later posted a leaderboard of results.
Sidebar: According to reports, Equine Canada did not even formally notifiy declared athletes that they had made the official Nominated Entries list (or conversely, had not been named) that was submitted to the Rio Organizers. Many riders only found out thanks to the FEI press release and social media. This is particularly surprising given that Equine Canada has recently substantially increased their staff resources to create a dedicated High Performance department and are publicly promoting their "Best in Class" practices with leadership referring to a "unified equestrian community in Canada".
As the July 3rd qualification period drew closer, the leaderboard became tighter between the second to fourth ranked riders all vying for 1 golden ticket to Rio.

Major Games veteran Belinda Trussell and her experienced Anton established a clear lock on the number one slot having achieved a comfortable 74.263 average. Belinda first represented Canada at a major games when she went to the 2004 Athens Olympics, at that time on Royan II. With her current partner Anton, she has competed for the maple leaf at the 2010 World Equestrian Games, the 2014 World Equestrian Games and helped secure the Team Silver at the 2015 Pan American Games. Thanks to the pair's strong showing at these Pan Ams, Canada was able to secure its first individual Olympic slot.

The battle for the 2 individual spot for Canada would end up coming down to two of Belinda's 2015 Pan Am teammates plus her 2014 WEG teammate.

Megan Lane and Caravella are a bit of a fairytale story. A Canadian-bred horse, Caravella came to Megan as a young horse, and the two have worked their way through the FEI Junior and Young Rider ranks, having achieved multiple medals for Canada at the North American Junior & Young Rider Championships (NAJYRC). Their success during those times led to Lane being named Equine Canada Junior Equestrian of the Year. They then were able to move successfully into the Senior ranks, and were named to the Canadian team competing at the 2014 World Equestrian Games in Normandy, France. The pair built upon that success and were named to the 2015 Pan American Games, where the pair helped Canada to achieve a Team Silver on home soil. Their continued success in 2016 also clinched a second individual spot for Canada at the 2016 Rio Olympics (the first individual spot having been guaranteed at the 2015 Pan American Games thanks to Belinda Trussell).

Karen Pavicic & Don Daiquiri have been continuing to work their way up the Grand Prix ladder. Karen is another successful graduate from the Young Rider ranks, where she represented Canada on four North American Young Riders Championships teams and winning medals with her Thoroughbred gelding Northern Lights. In 2007, Karen was named the Reserve Rider for the 2007 Pan American Games team and travelled to Rio with Lionheart, where Canada won Team Silver. Fast forward to 2014 when Karen was again named to represent Canada, this time with Don Daiquiri and this time at the World Equestrian Games where her teammates included Trussell, Lane and David Marcus.

Chris von Martels rounds out the top 4 and is also a graduate from the NAJYRC ranks. A regular fixture in the FEI ring, Chris was first names to a major games team in 2015 with Zilverstar where the pair not only helped win Canada a Pan Am Team Silver, but also an Individual Bronze - the first one at a Pan Ams since 2003. Chris was then named Equine Canada Equestrian of the Year. For his 2016 Olympic campaign, Chris chose Divertimento to be his partner - who has previously represented Sweden with Olympian Tinne Vilhelmson. Since their competition debut in January of this year, the pair have been on a consistent upward trajectory with their scores.

After a very competitive season in the US, the focus moved to Canada where it looked like the deciding shows would be the CDI3* held at Thunderbird in Langley, BC, and the newly upgraded CDI3* in Cedar Valley, Ontario (just north of Toronto).

Karen Pavicic & Don Daiquiri achieved their best scores to date in front of a very appreciative home crowd, earning 71.120% in the Grand Prix and 72.451% in the Speciale. This put them into 2nd place on the leaderboard, and all eyes turned to the Cedar Valley CDI3* being held the next weekend where Lane and von Martels were set to compete.

Pavicic herself made the trip to Toronto to watch how things would unfold at a competition which had originally been scheduled only as a Gold competition, but had been upgraded to a CDI3* in April reportedly thanks to the financial assistance from Deer Ridge Equestrian, sponsors of Olympic hopeful Megan Lane.

With such a narrow margin between these 3 riders, many believed that the outcome of this CDI3* would decide who would be accompanying Belinda Trussell to Rio later this summer.

However it would prove to provide even more drama as the judging in the Grand Prix raised questions about the scores from Canadian FEI O judge Elizabeth McMullen who gave Megan Lane and Caravella their highest score achieved in the Grand Prix this year by over 3.5% and was by far the highest scoring judge on the panel that day. It was thanks to that score that Lane was able to overtake Pavicic for the #2 spot by the smallest of margins - .049%! This raised a lot of chatter not only from other riders and fans, but also resulted in an official report being sent to the FEI which is currently under review.

It also resulted in McMullen coming under fire from her fellow Canadian international judging colleagues, who took to social media to question not only the large spread within the scoring of that class, but also the lack of transparency in Equine Canada keeping the selection criteria under lock and key from the public.
And it caused confusion due to the secrecy of the criteria itself. Many felt that Karen had successfully maintained her grip on the second position until it was realized that the criteria states that a rider can only use 2 scores achieved at the same competition a maximum of one time. Since Karen was using both her Grand Prix and Speciale scores from the Thunderbird competition, that meant she had to drop a 70.157% GPS score from an early Florida competition as she was already using a GP score from that same competition. So instead was forced to use a 69.745 GPS score from a different competition as her 4th highest score. Confused yet? It has us confused too until we realized that the 4 scores riders submit must be from a minimum of THREE competitions.
While some in the media jumped the gun and declared Megan Lane as Canada's second dressage athlete going to Rio, Karen Pavicic surprised a number of people when she confirmed that she was going to Europe to compete in one more competition prior to the July 3rd qualification deadline.

Pavicic and Don Daiquiri flew out from Calgary to Luxembourg, and made the journey to compete at the picturesque CDI4* in Fritzens , Austria, a competition she attended last year.

The duo completed the Grand Prix today amidst a starting list that included German heavyweights Isabell Werth, Jessica von Bredow-Werndl & Dorothee Schneider.

Some unfortunate tension resulted in a few bobbles in the Grand Prix and reflected in their score of 69.240%. However the pair are qualified to proceed into the Grand Prix Speciale.

We crunched the numbers, and it looks like the magic score is 69.94% in the Speciale for Karen to reclaim the # 2 ranking on the Olympic Leaderboard. That would give Karen a 4-score average of 71.0878 compared to Lane's 71.0875. But don't quote us on that! Without having a copy of the criteria, we are going on some assumptions here.

The Grand Prix Spéciale takes place Sunday July 3rd starting at 9:00am CET (3am EST). You can watch a livestream courtesy of www.Clipmyhorse.de
In summation, the road to the Olympics is an emotional one no matter what the sport or what role you play (rider, owner, groom, family member, friend, enthusiastic fan). The road on which Equine Canada chose to take their athletes is an unfortunate one filled with mystery, suspicion, athletes not being able to talk freely about the criteria, and fans finding it difficult to wade through unofficial information on their favourite riders. This is in stark contrast to our neighbours to the south, who have been very open about their process and their national federation (and chef d'Equipe) has been regularly keeping everyone updated & involved on the Road to Rio for their Dressage Team.
For the sake of the riders, those involved who make substantial financial and personal sacrifices to help them proudly represent the maple leaf on the international stage, and those who cheer them on, we certainly hope that the equestrian community truly does "unify", and demand much better from our national federation.
Unfortunately for us, this again is where Canada differs markedly from our US counterparts. Where the USEF provides a direct email address for their President and CEO, Equine Canada provides neither. So unless you already have a connection to Mr. Bernhard or Ms. Havaris, you will have to make due with the "General Inquiries" email address: inquiries@equinecanada.ca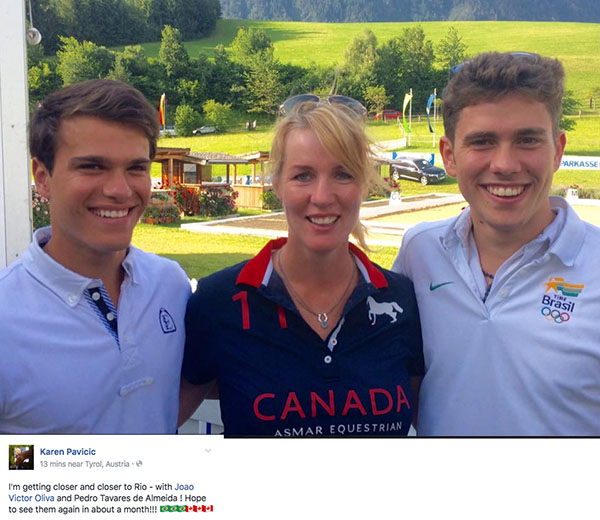 Featured Ads
Uxbridge, Ontario, Canada
Join our Mailing List!