Back
Team Canada Members for Rio make strong showing at Spruce Meadows
Today's RBC 5* Grand Prix 1.60m class at Spruce Meadows today gave fans (and the competition) a sneak peak of the Canadian Showjumping Olympic team heading to Rio later this summer.
The class was won by Irish showjumping sensation Conor Swail, whose big gamble over the double combination (jumped at an angle no less!) paid off. Today's win is the latest in a series of very strong performances by the Irishman which has some scratching their heads even more as to the Irish Equestrian Federation's choice to go with Greg Broderick who is ranked 252 in the FEI Longine World Rankings .
A mere 1.3 seconds behind was Eric Lamaze and his Rio Olympic mount Fine Lady 5, owned by Artisan Farms. The pair were second last to go in the jump-off, and their blistering pace looked like it would be unbeatable.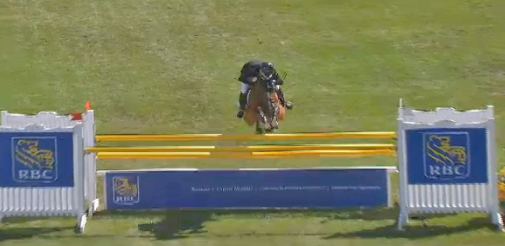 Eric Lamaze & Artisan Farms' Fine Lady 5 flying over the last fence.
Taking the bronze medal position was USA's Rich Fellers and his incomparable Flexible, who is an astonishing 20 years old!
Canada enjoyed 4 of the top 10 placings, with Calgary's Kara Chad coming 6th with Belinda, Tiffany Foster and her partner Tripple X III placing 8th, and Yann Candele coming 9th with First Choice 15. Amy Millar & Heros finished just shy of the top 10 in 11th place.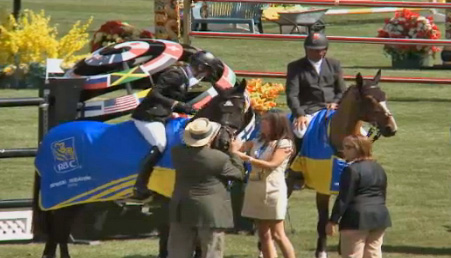 Tiffany Foster & Yann Candele
With Lamaze, Foster and Candele being recently identified as 3 of the 4 athletes who will be representing the maple leaf at the Rio Olympics this summer, it was exciting for Canadian fans to see a taste of what will come at the first Olympics ever held in South America.
And the rumour mil must certainly be getting louder that it will be Kara Chad, a student of Lamaze's, who will claim the final fourth position. Chad is coming to Spruce Meadows following a very strong early year tour which saw her take part in the CSIO5* in Rome with teammates Lamaze, Foster & Candele . At just 20 years old, she would be the youngest member of the Canadian Olympic Showjumping team if chosen.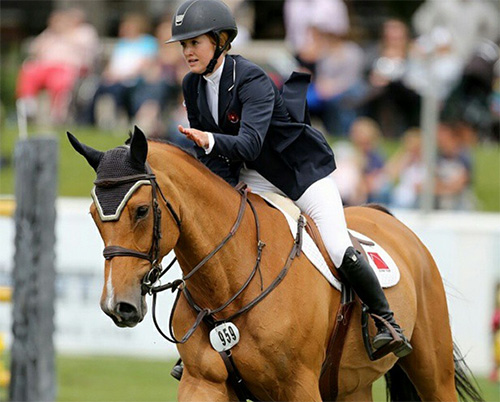 Kara Chad & Bellinda - Instagram
Featured Ads
Join our Mailing List!