Back
Eric Lamaze & Fine Lady 5 Win Opening of CSIO5* La Baule, France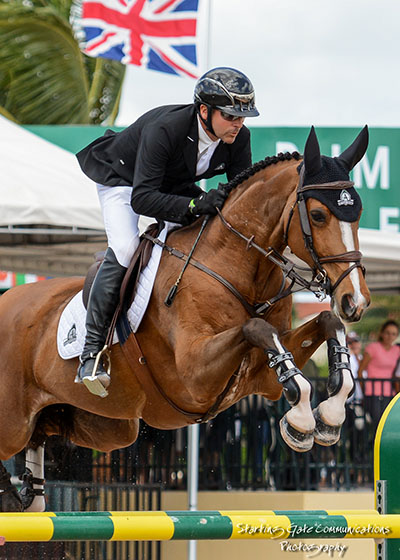 Eric Lamaze began a three-week European tour by winning on the opening day of competition at CSIO5* La Baule, France. Riding Fine Lady 5, the 2008 Canadian Olympic Champion claimed victory in the €28,000 1.50m Prix FFE on Thursday, May 12.
Held in a one-round format that sees the fastest rider win, Lamaze was the seventh rider on course from a starting field of 64 entries. He and Fine Lady 5 flew around the speed track, stopping the clock in a time of 68.20 seconds. Of the 57 challengers still to come, only one rider even came close to catching Lamaze's time, with Gudrun Patteet of Belgium clocking in at 69.90 seconds riding Sea Coast Atlantic. Incredibly, the third place finisher, Brazil's Stephan de Freitas Barcha riding Quentin PJ, was more than six full seconds off the winning pace, with his time of 74.69 seconds proving just how fast Lamaze had been.
"She's fast, but it's also been a long time since she was on the grass," said Lamaze, who has not competed Fine Lady 5 on grass footing since the 2015 CSIO5* Spruce Meadows 'Masters' Tournament in Calgary, AB, last September where they won the $35,000 1.50m ATCO Cup, placed second in the $35,000 1.50m TELUS Cup, and were members of the third-placed Canadian Team in the $300,000 BMO Nations' Cup.
"I felt like I could go extra-fast and use the fences to slow her down," continued Lamaze of the 13-year-old Hanoverian mare (Forsyth x Drosselklang II). "Fine Lady is the perfect horse to do this class with on opening day. I'm especially pleased because La Baule is a show that I like to do well at; it is one of my favourite competitions."
La Baule is the first of three consecutive European shows that Lamaze will compete at. From France, Lamaze travels to Madrid, Spain, for the CSI5* Global Champions Tour from May 19-22 followed by CSIO5* Rome, Italy, from May 26-29 where he will compete as a member of the Canadian Show Jumping Team in Nations' Cup competition.
In addition to Fine Lady 5, Lamaze is also riding Check Picobello Z, a ten-year-old grey Zangersheide gelding (Cardento x Orlando) and the recently acquired Chacco Kid, a ten-year-old chestnut Oldenburg gelding (Chacco Blue x Come On), at CSIO5* La Baule. Fine Lady 5 and Check Picobello Z are owned by Carlene and Andy Ziegler's Artisan Farms in partnership with Lamaze's Torrey Pines Stable, while Chacco Kid is owned by the Chacco Kid Group, consisting of Lamaze, Rick and Sara Mershad, Ludi and Carol Sollak, and Andy and Carlene Ziegler.
While Lamaze is competing at CSIO5* La Baule alongside his 2015 Pan American Games gold medal teammate, Yann Candele of Caledon, ON, fellow Pan Am gold medalist and Artisan Farms rider Tiffany Foster of North Vancouver, BC, is contesting CSI4* Windsor in England with students Kara Chad of Calgary, AB, and Elizabeth Gingras of Edmonton, AB.
Following his European tour, Lamaze will return to Canada in June to continue competing in preparation for the 2016 Olympic Games in Rio de Janeiro, Brazil.
For more information on Eric Lamaze, visit www.EricLamaze.com .