Back
Hawley Bennett-Awad and Gin & Juice Top Canadians at Pau CCI4*, France - VIDEO
A formidable field headed for Les Étoiles de Pau CCI4* in the French Pyrenees this past weekend. Twelve nations fielded some seventy five horse/rider combinations. Competitors included Olympic Games medalists and the top seven best competitors on the International ranking list.

Among them were 2012 Olympians Bennett-Awad, a Langley, BC native who currently rides and trains in Temecula, CA, USA and her partner, Gin & Juice, a 13-year-old Thoroughbred mare by Audio, co-owned by Bennett-Awad and Linda Paine. Bennett-Awad is no stranger to challenging CCI4* events having placed seventh at the Rolex Three Day Event in Lexington Kentucky, USA earlier this year aboard Gin & Juice. Pau marked their seventh CCI 4* competition proving once again that they are at the top of their game.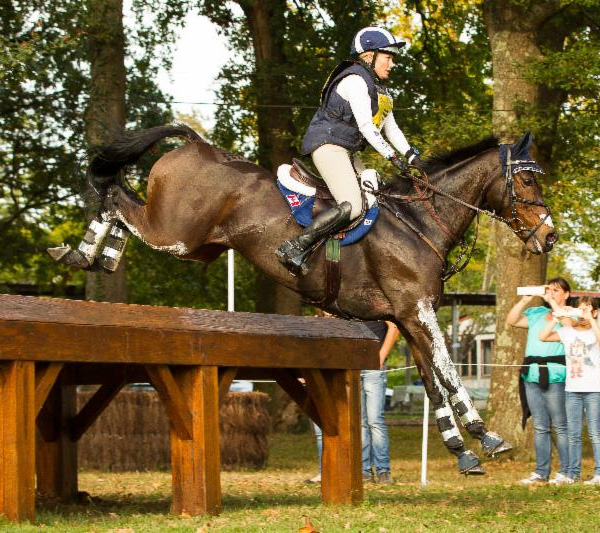 The pair started out in 22nd position after solid dressage test, which earned them a score of 49.5 penalties. Next up was 2014 World Equestrian Games designer Pierre Michelet's cross-country course. Bennett-Awad negotiated the course with no jumping penalties however Gin & Juice's huge effort heading into the last water obstacle forced them to take an option costing them valuable time. The pair finished the course with 13.2 time faults placing them 23rd.

During Sunday's show jumping test, Bennett-Awad rode a smooth performance taking a single rail for four jumping faults, coming in under the time allowed giving them a final score of 66.7, moving them up the standings to finish in 16th place overall.

"What a weekend. Gin & Juice was the best she has ever been for me. So ride-able; she jumped awesome! I know I can make time on her, so honestly I could not be happier right now. She was amazing in show jumping, the rail was my mistake. I am beyond excited and happy with her!! To owners Terry and Linda Paine, thank you so much for letting me the little pocket rocket, I am so grateful to everyone," said Bennett-Awad.
The next Canadian on the leaderboard was Shandiss McDonald of Oakville, ON, currently based in Great Britain, competing in her second CCI 4* aboard Rockfield Grant Juan, an 11-year-old Irish Sport Horse gelding by Don Juan de la Bouverie, owned by Jorge and Amanda Bernhard. The pair completed the event in 44th place.

View full results here: www.event-pau.fr

Pau marks the start of the new season in the HSBC FEI Classics, which covers the world's six four-star events and sees the winner awarded $180,000. At the end of the FEI Classics 2013/2014 season, the five riders with the highest number of points collected across the six FEI Classics events will share a total prize fund of $120,000 US.

FEI Classics™ 2013/2014 calendar
1 Les Etoiles de Pau CCI 4* (FRA) - 23-27 October 2013
2 Australian International 3 Day Event (AUS) - 14-17 November 2013
3 Rolex Kentucky Three-Day Event (USA) - 23-27 April 2014
4 Mitsubishi Motors Badminton Horse Trials (GBR) - 8-11 May 2014
5 Luhmühlen CCI 4* presented by DHL Paket (GER) - 12-15 June 2014
6 Land Rover Burghley Horse Trials (GBR) - 4-7 September 2014
Source files- FEI news release
Featured Ads
Palgrave, Ontario, Canada
Hamilton, Ontario, Canada
Inglewood, Ontario, Canada
Join our Mailing List!